Frank Klees represented Newmarket-Aurora in the Provincial Parliament for 19 years from 1995 – 2014. I've blogged about him over the years, most recently over his involvement with Pace Credit Union where he made a mountain of money sourcing and facilitating real estate development projects.
Three years ago Klees told the Globe and Mail: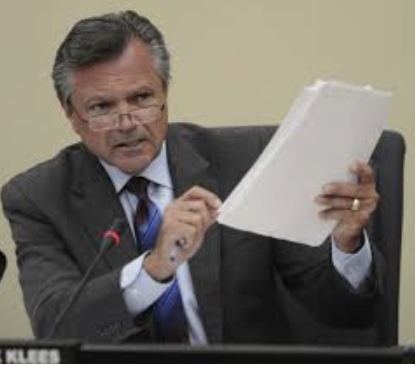 "As a consultant, my role was to source and facilitate real estate development projects between Pace, land owners and developers/builders… For those services, the parties with whom I had agreements were invoiced by my company for fees commensurate with the services delivered."
At the time I wrote:
I am left wondering how many real estate development projects Klees facilitated here in Newmarket, if any. I'd love to know."
I see from this morning's Globe and Mail that Frank Klees was hired by the Rice Group in 2019-20 to lobby the Ford Government:
"on the economic development opportunities represented by a number of the client's emerging projects"
What were these "emerging projects"?
The Globe and Mail says
"The contract predated Mr. Rice's purchase of the land in King Township. Mr. Klees did not return an e-mail seeking comment.
In addition, provincial records also show that a person with the name Michael Rice has donated more than $10,500 to the PC Party since 2018. This individual also donated money to the Liberals in 2018. As well, three donors with the same names as Rice Group executives have given the PC Party thousands of dollars since 2018."
FordNation posted this encomium about Klees on 14 February 2018:

Longtime MPP and former provincial cabinet minister Frank Klees has announced his support for Doug Ford as the next leader of the Ontario PC Party. "We need a responsible leader that will take a stand on issues that matter to all Ontarians including lowering taxes. Doug is building a coalition of the full spectrum of conservatives strong enough to beat the Wynne Liberals, and principled enough to earn the trust of Ontario voters. He has the experience in both politics and business to put Ontario back on the road to prosperity" says Klees.
Doug is humbled to have his support. "Frank Klees is one of the great architects of Ontario's Progressive Conservative Party. His track record as serving our Party for 19 years speaks for itself, and he is someone who worked closely alongside my father during his time at Queen's Park. He's someone our members have always looked up to and I am honored to have him in my corner, advising my campaign."
What precisely did the lobbyist Frank Klees do for Michael Rice?
And for the "principled" Doug Ford?
This email address is being protected from spambots. You need JavaScript enabled to view it.
See also from the CBC (25 November 2022) Prominent developer family linked to more Greenbelt properties slated for housing
Update on 5 December 22: Toronto Star editorial: With so many questions Greenbelt plan must stop
Update on 1 December 2022: From the Toronto Star: How to stop developers from profiting from the Greenbelt controversy and from the Globe and Mail's editorial board: Troubling questions about Doug Ford's move in to the Greenbelt
Update on 30 November 2022: From the Toronto Star: Did anyone tip off the developers?
Update on 29 November 2022: Details of Frank Klees' lobbying activities can be found here. Klees has lobbied on behalf of clients seeking changes to the boundaries of the Greenbelt. He was a consultant lobbyist with Block 21 Developers Group from November 2018 to December 2019, describing his lobbying objectives in this way:
"The client owns lands within the City of Vaughan, adjacent to the planned Kirby GO Station and is seeking an adjustment to the Greenbelt boundary to allow for the said lands to be included in the future growth plans of the Town."
Klees has lobbied for the Stronach Group:

and for Castlepoint, Greybrook Huntington Inc: